Bio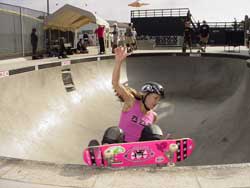 Holly has been skateboarding and snowboarding competitively since the mid 90's. She is a World Cup Skateboarding Champion, 5 times X Games Athlete, TV and movie stunt double, TV Personality, and owner of SK8*GRL.
She grew up in Walnut Creek, Ca. and graduated from the University of Santa Cruz with a Bachelor's of Science degree in Business Economics.
After graduating, Holly moved to Lake Tahoe to snowboard. She competed at the professional level in Super Pipe and Boardercross. Holly also produced, directed, and organized amateur skateboard contests. She helped raise $150,000 for the Truckee skate park which was the first permanent skate park in the area.
After competing and traveling for snowboarding, she moved to Encinitas, CA. to skate vert and pools more often

In 2003, she was asked to be a part of the first and only female vert demo at the Gravity Games. She was also invited to compete in the first ever female vert contest at X Games lX. Holly has now competed 5 times in the summer X Games.
In 2005, Holly was given her own Signature Shoe with Power Shoes. She decided to immortalize her Chihuahua, Rerun by making him the icon for her shoe. They were a top seller for back to school in a large a Canadian chain store of 142 stores.
Holly has worked as a skateboard stunt double on many TV shows, including Disney's 'That's So Raven' and 'Hannah Montana'. She was also a stunt double for Haylie Duff in the movie 'Dishdogz'. Holly has also been a co-host on a pilot TV show called 'The Cage' and many episode of 'GKA' for Fuel TV.
In 2006, Holly was given her own Pro Model Skateboard with CG Decks which was the top selling board for the company. Holly is one of a few females in skateboarding to have both a signature shoe and a pro model skateboard.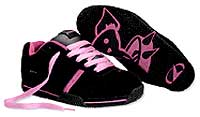 In spring 2006, Holly was one of a handful of professional female skateboarders who were invited to be a castee for the first ever 100% Keep-A-Breast Art Show and Auction to raise money and awareness for breast cancer.
For over 3 years, she had an 'Ask A Pro' page where she voluntarily answered questions from girls around the world about skating, etiquette, boys and more. Some people even wrote her back to tell her how she really helped make a positive difference in their lives. Holly loves being able to help others and has said many times that, "Inspiring and supporting each other is what life's all about!" Holly has also been a public speaker at many schools to inspire kids to believe in them self and live a healthy life.
In 2007, Holly started her own clothing company called, SK8*GRL. She saw a need for girls to have their own community in skateboarding. SK8*GRL has had a lot of press, co-created tops with Warner Bros. and Supergirl for three different Supergirl events, has Distribution with VK Skate, and plans on continuing it's growth and making it a very interactive site where girls can meet each other, design tops, play games, and more. www.Sk8Grl.com
In 2008, Holly was a Skateboard Coach for an episode of 'MTV'S MADE' and was a Featured Character on 'USA'S Character Road Trip'
Holly is currently working with Agents in LA developing a Girls Skateboard Reality TV show and other various sports and entertainment work. She is working with Planet X TV and KUSI News doing 'Action Sports Reports'. She loves being able to inspire others to be active and live a healthy lifestyle, as it helps to strengthen not only your body but also your mind and your soul.
SPONSORS: SK8*GRL, GO211.com, B4BC, Sweenie, Nixon, Airspeed, Manitoba Harvest, Guayaki.